Pablo Picasso Blue Period
Pablo Picasso Self-Portrait (Blue Period)
Pablo Picasso can't be overrated in the art world and if now he is consider to be one of the greatest painters ever lived he had to start somewhere. This story is about how a man with the dark past overcame his depression for the greater.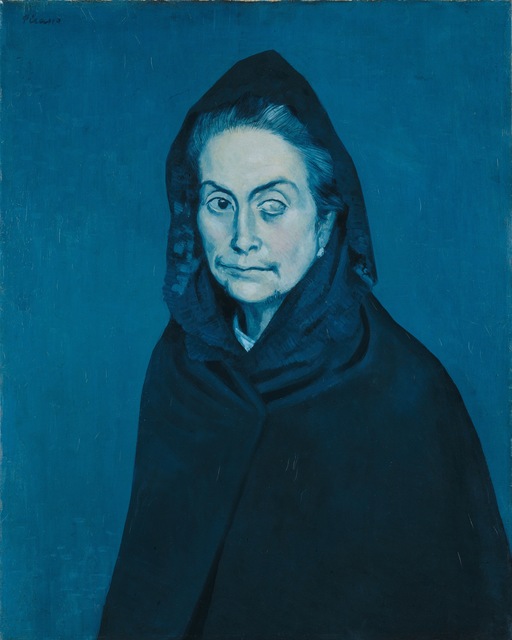 Pablo Picasso La Celestine
1901-1904 were truly defining in his career and it all started with his friend Carlos Casagemos, a poet that killed himself after an act of unfulfilled love desire. (What a true poet, ha?). It served as a trigger that made him loose it, especially that that death of his best friend was not the first one he witnessed. In 1895 his little sister Conchita died of diptheria and in 1899 a painter Hortensi Guell, one of his artist group in Barcelona, threw himself off a cliff.
 Pablo Picasso The Death of Casagemas
At the age of 19 (1901) he was a member of the artist community of writers, painters and radical anarchists. They lived between Barcelona and Paris. As been opposed to the mainstream culture he and his friends already accepted the fate of outcasts that was written in the stars for them.
 Pablo Picasso The Old Guitarist (Man with the Guitar)
Blue colors were the cheapest to buy and also represented the mood that was in Picasso's heart at the time. No money and lost in the world he started painting people around him. As he was definitely not high class at the time, so his muses were mostly, beggars, hookers, prison inmates and drunks.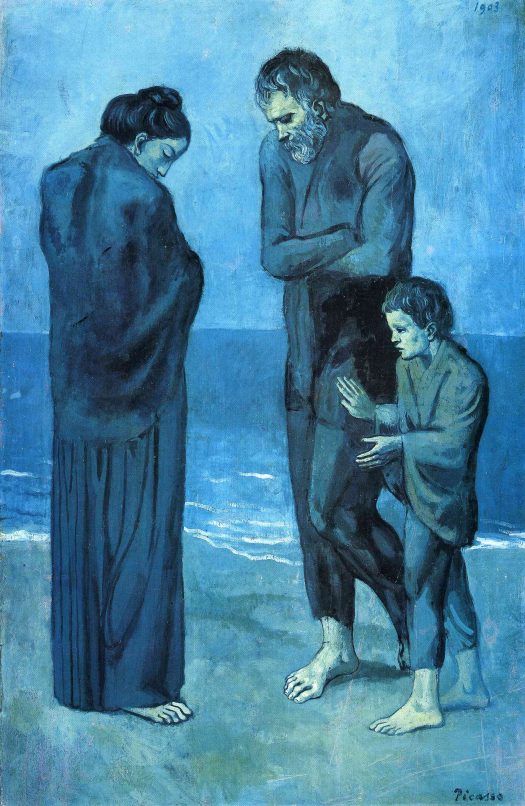 Pablo Picasso The Tragedy
Just as always, critics and people do not cheer on the melancholic artists too much and they all turned away from him and left him financially broke and unnoticed. In the end it was not his poverty that led him to paint those people and those colors, but the fact that he painted them made him poor. But life goes on and so did Picasso. After he finally moved to Paris in 1904 the new chapter opened in his journey and in his heart. He was finally ready to start living and the Rose Period began.
Pablo Picasso The Soup
Picasso's melancholy has played a defining moment in his career and what i find most interesting is he was not afraid to show it. Accepted his fate as an outcast he could really open himself up to the world and paint whatever was in his soul. People's real stories and his own tragedy gave him this fuel to be vulnerable and an unforgiving sense of truth.
Pablo Picasso Woman Ironing