Sainte-Chapelle was built in 1248 AD this chapel has become ever since a outstanding sight to see. It was indeed a royal residence until 14th century and considered one of the highest achievements of Gothic architectural style Rayonnant.
Who Built Sainte-Chapelle
The architect of the building is sadly still unknown, but we can now estimate that his blueprint of the building costed around 40,000 livres tournois and with all the added features, like Crown of Thorns (135,000) and other relics coming up to a 200,000 livres tournois ($52 million!).
Saint-Chapelle Interior
As it was originally build to house the Crown of Thorns, but there were another few relics purchased by King Louis IX to accomplish the arrangement. Here are names from a few of them: an original Jesus's cross fragment, relics of the Virgin Mary, the Mandylion, the Holy Sponge and the Holy Lance.
During the famous french revolution it was critically damaged, but later restored in 19th century. The restaurateurs referred to drawings of the original books and official descriptions, but the lower part was basically reinvented due to lack of documentation.
Sainte-Chapelle Stained Glass
We cannot talk about the chapel and not talk about the famous stained glass collection. Ranging in about 618 m2 it has become the biggest 13th century stained glass collection in the world. It's made in five colors: blue, green, red, yellow and purple.
It is not just pretty pictures, it is a shocking 1113 biblical figures. It is a real book that you can subsequently read starting from from Bible story until the Passion of the Christ, book of Esther and book of Kings, the last sections depicts the story how King Louis brought the relics to the chapel.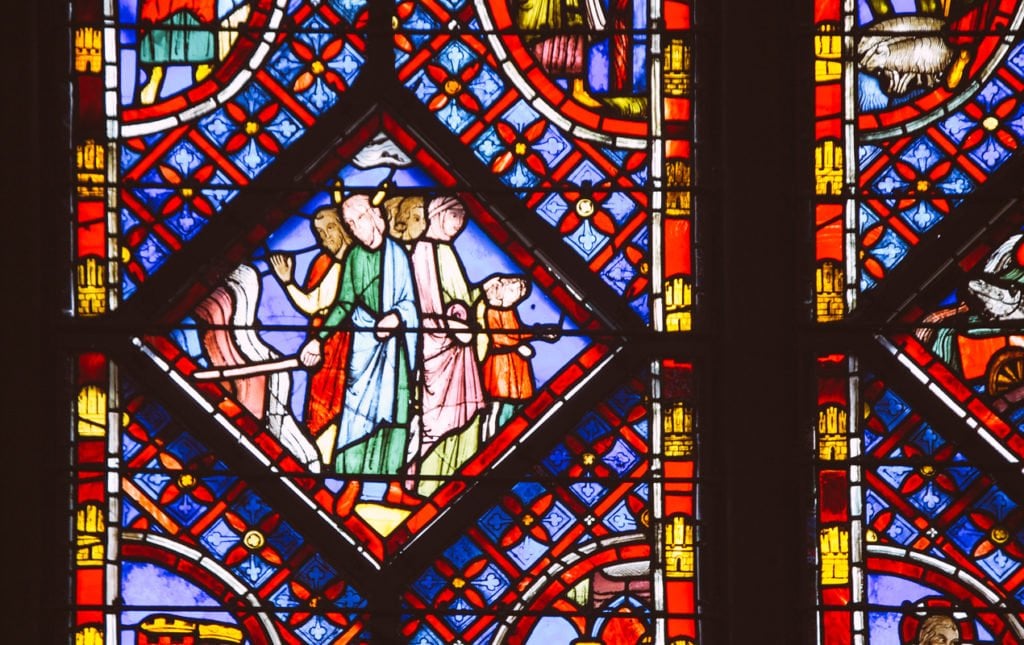 It was originally created to help illiterate people to read the Holy Book, here is a full list of them:
Genesis

Exodus

Numbers

The Book of Joshua

The Book of Judges

The Book of Isaiah and the Jesse Tree

Saint John the Evangelist and the Childhood of Christ

The Passion of Christ

Saint John the Evangelist and the Childhood of Christ

The Passion of Christ

Saint John the Baptist and the Book of Daniel

The Book of Ezekiel

The Books of Jeremiah and Tobias

The Books of Judith and Job

The Book of Esther

The Book of Kings
Sainte-Chapelle's Rose Window
It actually dates from 15th century and has 87 petals.
Sainte-Chapelle Restoration
The glass itself was restored two times: ones in 19th century and later in 2008-2014. The last one would be a clean up and restoration of the Sainte-Chapelle exterior after the damage of the World War II. After all the bombing the glass darkened and got scratched a lot. The restoration was completed with the help of lasers that could read through the dirt to originate the image. The whole project cost was around €10 million.